Nnamdi Kanu's Release: Buhari's Promise to Igbo Elders Unsettles Northern Groups
The Coalition of Northern Groups (CNG) appears unsettled over the promise by President Muhammadu Buhari to consider releasing leader of the proscribed Indigenous People of Biafra (IPOB), Mazi Nnamdi Kanu. Kanu is facing terrorism related charges at the Federal High, Abuja.
On Friday, elders from the South-East region led by First Republic Minister of Aviation, Chief Mbazulike Amaechi, besieged the Presidential Villa in Abuja, pleading with the President to let the IPOB leader go. The president in his reaction said though the demand was heavy, he would consider it.
But in a reaction, CNG spokesperson, Suleiman Abdul-Azeez, accused certain interest groups in the South-East of trying to subvert the course of justice by trying to secure the unconditional release of Kanu without trial.
CNG said it was worried by the President's "ambiguous response" to the demands made by the Igbo elders.
The group urged the Federal Government to take into consideration the number of security personnel and innocent civilians allegedly killed by IPOB before acceding to the "heinous and unpatriotic demand" made by the elders.
Another Northern group, Arewa Youths Consultative Forum (AYCF) also kicked against releasing Kanu.
AYCF National President, Yerima Shettima warned that more Kanu's would emerge to further complicate the insecurity situation in the country, if the IPOB leader is released. He insisted that Kanu must be punished.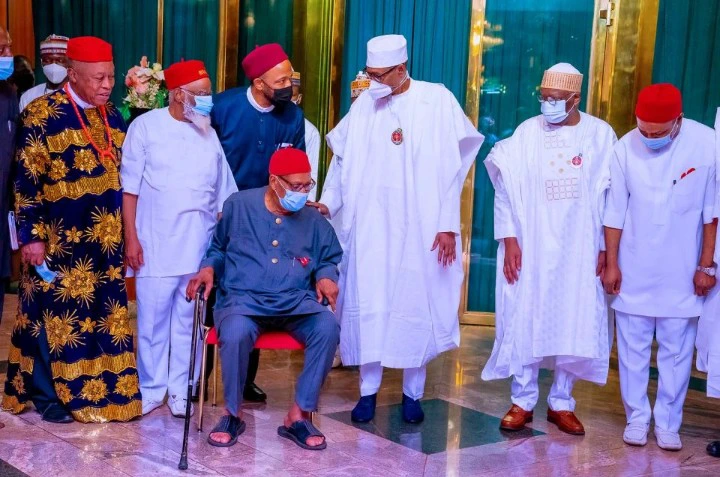 Igbo elders during the courtesy call on Buhari
Add your opinion on this in comments section below.
Kindly share and like this piece.