Alonso refusal to give the captain armband to Azpilicueta is a pure sign of disrespect
The Chelsea defender Marcos Alonso captained the team in their premier league match against Aston Villa today. The match ended in a 3-0 win for Chelsea as they sealed their 600th Premier League win and also moved to the second position.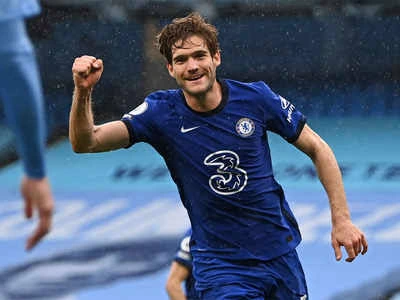 Photo Credit: Sky Sports
Alonso captained the team due to the absence of Cesar and Jorginho in the first half of the game and it was his first time to captain the blues as a player.
The Spanish defender was meant to hand over the armband to Jorginho when he was substituted in the second half but did not so, he also turned down the opportunity of giving the armband to Cesar when he substituted in during the game.
The captain didn't request the armband from Alonso during the game which shows that he respects him as a teammate but might not get to deal with such attitude from his follow Spanish man again.
It is a clear sign of disrespect to the team and he needs to apologize to Cesar immediately, this might be the last time he will captain Chelsea in his playing career.