2 Things Nnamdi kanu Should be made to agree to, If he is going to be released
Following the detention of Nnamdi kanu, president Muhammadu Buhari reveals he will be considering the demand for the release of the leader of indigenous people of Biafra.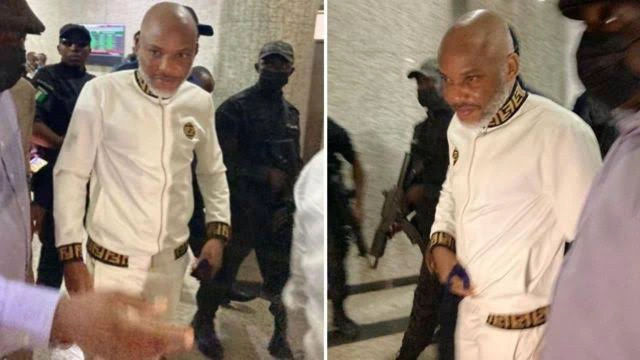 Ohanézè Ndígbo, through it's secretary has also commended the action of the president. They are delighted that the President has finally decided to show empathy to the release of one of their own.
However, his release requires a dialogue, as this is a veritable instrument for a functional democracy all over the world. This means that, for Nnamdi kanu to be released, he would be given conditions which he must adhere to.
Below are 2 things Nnamdi kanu Should be made to agree to, before his release.
1. He should be made to promise never to speak about the division of Nigeria.
President Buhari once said that Nigeria's unity is Non- negotiable and Nnamdi kanu has played a major role towards the disunity of Nigeria.
Since this was one of the reasons he was arrested in the first place, he should be made to sign an under-taken never to speak about the division of Nigeria.
2. He should also be made to dissolve the IPOB, as well as it's millitant group.
This is because, the IPOB/ESN group have threatened the peace of those living and doing businesses in the East.
They give unlawful orders against the constitution thereby creating panic among residents, they also kill at their will, especially security operatives. These are enough reasons the Leader should be made to dissolve the group, if the president would consider facilitating his release.
What are your thoughts about this?